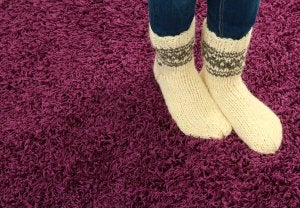 In addition to vinyl and wood flooring, carpeting is a popular choice of flooring in Mt. Vernon . This is a versatile type of flooring that comes in different styles, each of which has its own advantages. Whatever your needs may be, you can find the perfect carpet to suit them. Read on for a look at the different types of carpeting available today.
Plush
Plush carpets typically consist of one color throughout the expanse of the floor. This can be an aesthetic advantage if you are trying to create a specific design scheme for your living space. You can match your plush carpet to your furniture, window treatments, or walls. This type of flooring is associated with luxury due to its soft texture, and it is often found in bedrooms and living rooms.
Cut Pile
Among the most popular types of carpet is the cut pile carpet. Like plush carpet, this type of flooring is also luxurious when pre-sheared multiple times. This carpet is very versatile—different types of carpet fibers and different methods of cutting can give cut pile carpeting a soft or firm texture. When it is cut to be firm, this type of carpet is capable of handling heavy traffic and is thus appropriate for entryways, hallways, and other heavy-use areas.
Berber
Berber is a type of carpeting that is on the rise. This is a durable type of flooring thanks to its thick yarns. It does not typically show footprints or vacuum tracks, although it sometimes has a tendency to snag and hold dirt.
Frieze
A frieze carpet is comfortable, soft, and shaggy. This makes it a popular choice for bedrooms. In addition, it does not show vacuum marks or footprints. This type of carpet is made from lightly twisted fibers.