Although some situations call for wood flooring or carpeting, the benefits of vinyl flooring are many. It is due to these benefits that vinyl flooring is so popular in modern households. Keep reading to take a closer look at the advantages of choosing vinyl flooring in Westchester County.
Versatility
Vinyl flooring is popular for many different reasons, and its versatility is among the most important. This type of flooring can be used to create a variety of looks and fit in with any type of design scheme. Not only are vinyl tiles available in an impressive array of colors and designs, but they can even imitate the look of other types of flooring. If you like the look of wood flooring or stone tiles but want a flooring option that is easier to maintain, vinyl flooring may be the right option for you.
Maintenance and Longevity
Many people are drawn to vinyl flooring because of how little maintenance it requires. After your vinyl flooring installation is complete, you can keep the surface clean by simply sweeping or vacuuming and mopping. Vinyl flooring is not prone to staining and has the potential to last for over two decades. In addition, the installation will often come with an extensive warranty, so you can rest assured that you will be able to enjoy your flooring for years to come.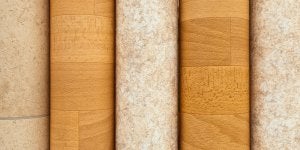 Comfort
Comfort is important when it comes to flooring, as you and your family probably do not want to walk around on an uncomfortable floor every day. Vinyl flooring is softer than wood or tile, and a small layer of foam affords the floor an extra level of flexibility. This results in a type of flooring that is as comfortable to stand on as it is easy to clean and nice to look at.